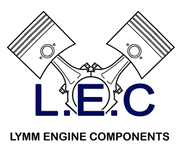 Your shopping cart is empty!

Big End Bearings
These are the bearings that are located in the larger end of the connecting rod. Some shells will have locating tags which protude outwards that will slot into a machined area of the conrod. Some conrods are "cracked or snapped" generally bearings for this style of conrod do not have locating tags. The bearing is held in place by the crush of the conrod cap when it is correctly torqued. Many bearings have an oil hole in the upper shell to help with lubrication. The hole in the bearing is aligned with the hole in the conrod.
Lymm Engine Components © 2019
View Mobile / Standard
The use of images found on this website is strictly prohibited. All images are subject to copyright law.