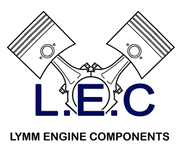 Your shopping cart is empty!
FAI Engine Parts

FAI Automotive plc started in the mid-seventies specialising in engine re-conditioning for road cars and consequently were regrinding road camshafts and, due to the cost of engine parts prevailing then, began sourcing outside of the franchised networks. As we built up availability for ourselves, we saw a market opportunity to offer a range of engine parts to the engine re-conditioning industry.
Commencing in 1976 the small range offered included re-profiled camshafts, followers, tappets, rocker shafts, oil pump repair kits, timing chains and core plugs.
Valve Train E

ngine Valves, Guides, Camshafts, Hydraulic Lifters & Tappets, Cam Followers, Rocker Arms & Cam Buckets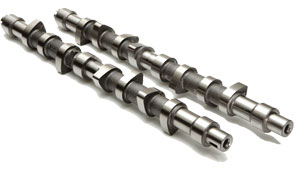 The launch of our latest Valve Train Catalogue brings the FAI range of engine valves, guides, camshafts and cam followers right up to date. With vehicle applications as late as March 2009, being covered the FAI range currently offers the best aftermarket car part coverage in the UK and Europe. Our valve program has been developed with ISO9001 certified factories with over 25 years experience manufacturing and developing engine valves and guides to both OE and Aftermarket customer bases. All valves are forged, machined and chromed to original specifications, and where applicable specialist materials/designs are used in the valve construction. Examples of these materials/designs are Chrome Nickel Manganese, Stellite, Inconel, Nimonic and Bi-Metallic construction.


Timing Chain Kits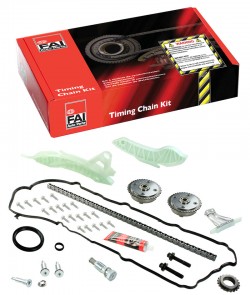 FAI has launching a unique catalogue – no other supplier in the aftermarket has an equivalent range of Timing Chain Kits and associated parts, all listed in a concise format with colour illustrations. Many of the kits are unique to FAI and many of the remainder contain items, such as VVT hubs, not included in other kits on the market.
Total range – 319 kits
New Part Numbers – 103
Now includes a range of Timing Covers
Also includes Timing Belt Kits for engines with mixed (chain/belt) drives
Gaskets, Oil Seals & Cylinder Head Bolts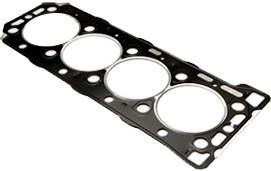 FAI offer an all makes program for gaskets, oil seals and cylinder head bolts covering all main passenger car and light commercial vehicle manufacturers. Our philosophy of offering a complete gasket solution means that we always endeavour to ensure that every gasket set we catalogue will contain every gasket and seal required to finish a complete head or block rebuild. Our cylinder head bolt range is an essential addition to the gasket range, as 99% of all modern engines are fitted with "stretch" bolts which must be replaced when fitting a new head gasket. These bolts ensure that the head gasket is correctly loaded during thermal cycles, as the engines gets hot when in use and cold when at rest. If the bolts are not replaced the head gasket will fail prematurely.
Our high standards mean that we always use the best materials for each part we produce, which will ensure the maximum product life span, as long as the engine manufactures thermal limits are not exceeded.
To view the Valve Train Catalogue Click Here



Lymm Engine Components © 2019
View Mobile / Standard
The use of images found on this website is strictly prohibited. All images are subject to copyright law.