Ford 2.0, 2.2 & 2.4 Duratorq - TDDi / TDCi
In the year 2000 BMW introduced a new Mini and replaced what is now known as the 'Classic Mini'. This new design was based on the classic retro shape which brought the Mini brand up to date and into the 21st century and with it a new generation of buyers of all ages and backgrounds who wanted a cool retro-looking modern car to be seen in.

September 2000 saw the introduction of the new line up which was offered with either a 1.4 Litre, 1.6 litre and 1.6 Litre Supercharged 'Tritec' engine which was supplied to BMW by Chrysler, a 1.4 Litre Diesel engine was also offered as part of the model line-up. this engine was supplied by Toyota which was shared with the Yaris. In 2006. The last model in this line-up was introduced, the Mini Cooper S fitted with the John Cooper Works GP Kit, this increased power to 218 PS making the Mini a true Hot Hatch gaining praise from the world's motoring press.

2007 saw the introduction of the new facelifted range which we know as the R56 and R57 Mini, with the new models came a new range of engines which were supplied to BMW by the PSA Group, displacement was unchanged although the Cooper S models were now turbocharged. This new engine lineup offered increased power and fuel economy, this was achieved using BMW's Valvetronic infinitely variable valve lift. In 2012 BMW introduced a limited run of Mini John Cooper Works GP, this limited edition model was limited to 2000 units with production finishing in 2014 shortly before the introduction of the third generation of New Mini.


Technical Information
Ford Ranger 2.2 Duratorq engine
Cylinder Head Bolt torque
Step 1 = bolts 1-10 = 10 Nm, 7 lb.ft
Step 2 = bolts 11-18 = 5 Nm, 4 lb.ft
Step 3 = bolts 1-10 = 20 Nm, 15 lb.ft
Step 4 = bolts 11-18 = 10 Nm, 7 lb.ft
Step 5 = bolts 1-10 = 40 Nm, 30 lb.ft
Step 6 = bolts 11-18 = 20 Nm, 15 lb.ft
Step 7 = bolts 1-10 = +180 degrees
Step 8 = bolts 11-18 = +180 degrees

Ford Ranger 2.2 Duratorq engine
Connecting Rod Bolt torque
Step 1 = 25 Nm, 18 lb.ft
Step 2 = 60 Nm, 44 lb.ft
Step 3 = +90 degrees

Ford Ranger 2.2 Duratorq engine
Main Bearing Bolt torque
Step 1 = 15 Nm, 11 lb.ft
Step 2 = 20 Nm, 15 lb.ft
Step 3 = 35 Nm, 26 lb.ft
Step 4 = 80 Nm, 59 lb.ft
Step 5 = +90 degrees

Ford Transit 2.4 Duratorq
Cylinder Head Bolt torque
Step 1, bolts 1 thru 10 = 20 Nm
Step 2, bolts 11 thru 18 = 10 Nm
Step 3, bolts 1 thru 10 = 40 Nm
Step 4, bolts 11 thru 18 = 20 Nm
Step 5, bolts 1 thru 10 = +180 degrees
Step 6, bolts 11 thru 18 = +180 degrees

Ford Transit 2.4 Duratorq
Connecting Rod Bolt torque
Step 1 = 30 Nm
Step 2 = +100 degrees

Ford Transit 2.4 Duratorq
Main bearing cap torque
Step 1 = 45 Nm
Step 2 = 80 Nm
Step 3 = +105 degrees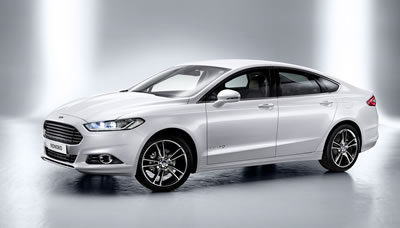 For Edge, Mondeo, Focus, Galaxy, S-Max Models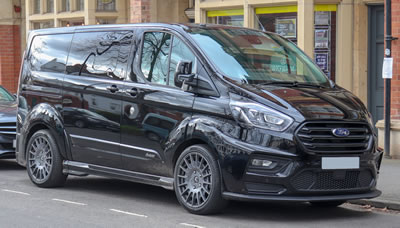 For Transit, Tourneo & Ranger Models
Choose your Vehicle
Image of Silver Mondeo, Ford Motor Company 2012 - Image of Grey Transit, Wikimedia Commons