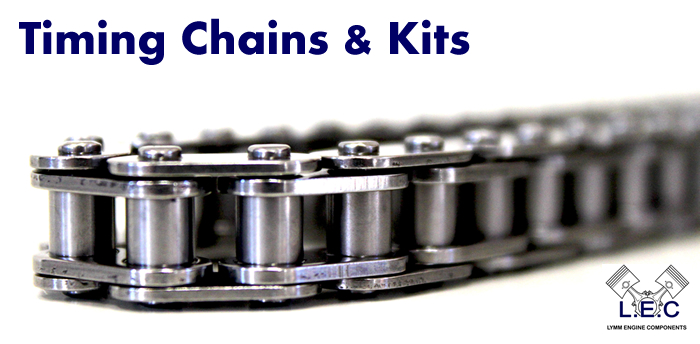 Timing chains are a strong reliable method of engine timing. However, it is a myth that timing chains will last forever. They still need to be inspected and changed at the intervals specified by the vehicle manufacturer. Failure to do so will result in catastrophic engine failure. Some of the most common chain kits are for the following

Vauxhall 1.0, 1.2 & 1.4 Petrol engine
X10XE, Z10XE, Z10XEP, X12XE, Z12XE, Z12XEP, Z14XEP

Renault / Vauxhall / Nissan 2.0 16v DCI M9R engine

Smart
599cc & 699cc

Ford / Mazda Duratec
1.8, 2.0 & 2.3

Ford 2.0, 2.2 & 2.4 Duratorq TDDi & TDCi

On modern engines, there are several components that are included in the chain kits, including guide rails & tensioners. Low oil or poor engine quality can severely affect the longevity of your your chain. Chains are metal and need sufficient lubrication to stop them wearing prematurely. Often they are tentioned by an oil filled tentioner. You may notice that your engine is noisy on initial startup. This is due to insufficient oil pressure. This noise should dissappear after a few seconds when the tensioner is up to tention. Get your kit checked today and have a look through our range of kits. A noisy chain is ticking timebomb!